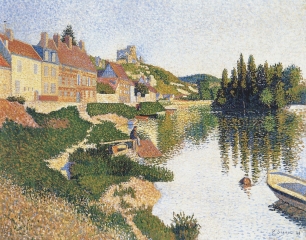 "Signac, the Colors of Water" is the title of the next exhibition at the Musee des Impressionnismes Giverny.
It will open on March 29, 2013 and display 120 works by the famous post-impressionist painter Paul Signac.
Signac is well-known for his pointillist, sometimes almost mosaic like paintings. He also loved watercolors for a quick sketch of a place, especially harbors.
Signac was a great admirer of Claude Monet. He stayed for the summer at Les Andelys, not far from Giverny, where Monet visited him and bought him a watercolor.
The Giverny exhibit includes a sumptuous view of the River Seine at Les Andelys belonging to Musée d'Orsay.