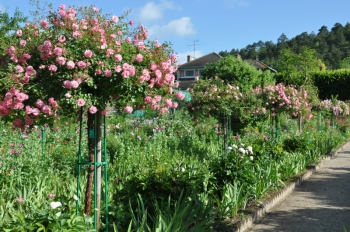 Standard roses are one of the beauties of Giverny.
As tall as trees, they measure over 2 meters and they offer their pink blossom like enormous bouquets.
Rose trees are generally not strong enough to resist wind, so they are grown on metallic structures that look like umbrellas or mushrooms, according to your imagination. Some people call them weeping roses, that's really too sad.
In Monet's flower garden, they tower over big bunches of peonies and large flower beds of pink and red poppies.