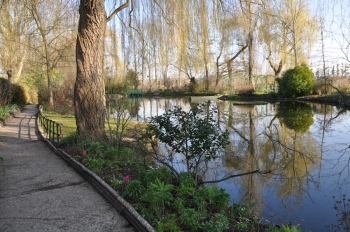 Although the water garden designed by Claude Monet still looks very peaceful, everybody is working hard at Giverny. The Fondation Monet (his home and gardens) as well as the Musee des Impressionnismes Giverny reopen in ten days, on Friday, 25th March. It is earlier than normally, because Easter is especially early this year.
Just out of the Winter, the gardens are not overloaded with flowers, yet pleasant to walk around. They look fresh and shiny. The first signs of Spring can be noticed. Jonquils are already out, illuminating special spots with their bright yellow. I took the picture above this afternoon.
The Musée des Impressionnismes will display an exhibition of works by Gustave Caillebotte. This hugely talented impressionist was a keen horticulturist. His garden and rare flowers were among his favorite motifs.