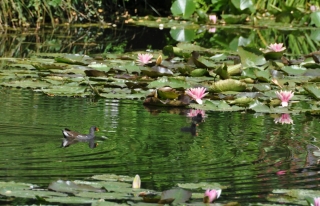 Here are the moor hens living on Claude Monet's pond at Giverny.
Every year, they nest on the island in the middle of the pond, or in the shrubs around. After a few weeks, they appear on the water with their adorable little chicks, five of them generally.
They are so sweet, light enough to walk on the lily pads. Both parents take care of them. But it won't help.
Because we are human beings with a memory, we know what's going to happen next: the ducklings will end in the belly of the pike living in the pond. This is the cruel story that repeats every year.
But because they are moor hens, and have not much space for brains in their head, they forget every year and keep nesting on the same location.
This afternoon two of the smalls only were left.