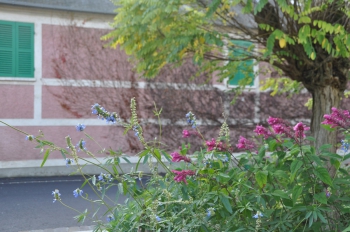 Giverny was very peaceful but not totally desert this afternoon, due to a reasonably sunny Sunday.
The shutters on Monet's house are locked for the winter.
Although it is not possible to enter any museum or garden, although cafés, restaurants and gift shops are closed, the village itself seems to attract people looking for a nice stroll.
Along the streets the flower beds continue to provide some flowers like sages, fuchsias, roses and dahlias.
They will resist until frost, or until the gardeners decide to pull them out.
One day, in the next months, they will be changed for spring flowers.