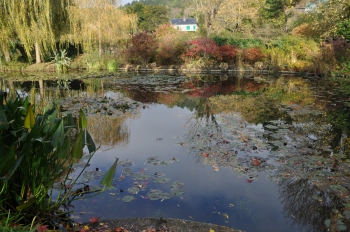 Fall atmosphere in Monet's gardens at Giverny.
The picture was taken from the steps of the dock next to the water lily pond.
On the left, the green leaves of pontederias.
The red shrub on the opposite bank is a Japanese maple.
In the distance appears the pink house with green shutters, Monet's home for 43 years.
On the right, through the branches, the third studio where Monet painted his biggest water lilies panels.