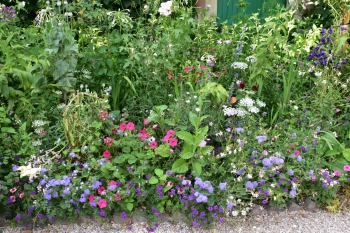 Many visitors of Giverny feel inspired by Monet's flower garden. Here is how to capture its spirit:
choose a main color to create an almost monochromatic flower bed
combine as many different flowers in this range of color as possible
mix up flower sizes and shapes, trying not to have two same flowers side by side
look for petals having different textures, from velvet to feather
blur the lines of the borders
Your border should resemble a living impressionist painting, where petals are used like brushstrokes. Happy gardening!
Flowers used in the bed on the picture: ageratum, petunia, browallia, carnation, verbena, gaura, salvia, nicotiana, agrostemma, cleome, anthemis, canterbury bell, malva, papaver somniferum, ammi visnaga, iris, gladiola…