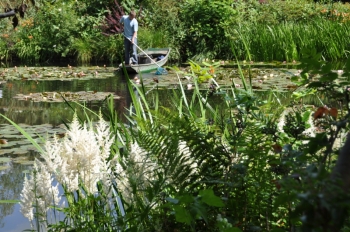 Monet's Garden at Giverny is not a low maintainance garden. In the 19th Century, having gardeners and helpers was not as expensive as today. The wealthy painter could afford up to six full time gardeners to manucure his 5 acre garden.
One of the heavy task of his times that is still a daily core today was the skimming of the pond to take out all the dried leaves or petals floating on the surface.
The pond being surrounded by trees and flowers, it is the only way to keep the water clear.
The job takes two hours and must be done almost every day.