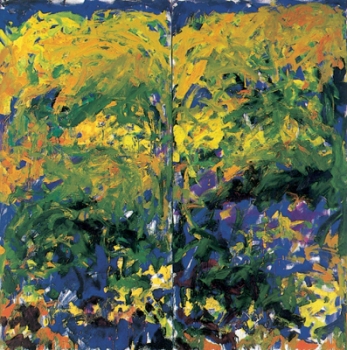 It sounds like the perfect transition for the new Museum of Impressionisms Giverny: after the first exhibition dedicated to Monet's Nymphéas, that ended with resolutely modern late works, the next artist occupying the galleries of the museum is Joan Mitchell.
Although Mitchell rarely admitted Monet's influence on her canvases, undoubtedly she put her feet in his footsteps. She lived in the same riverscape, the Seine Valley at Vétheuil. In this village where Monet had spent a couple of very hard years, painting relentlessly, she bought the house neighboring his, almost a century later, and just like Monet she admired the beautiful natural setting.
But instead of trying to recreate nature on the canvas, Mitchell, an abstract expressionist, preferred to concentrate on her own feelings. She shared with Monet an amazing energy, a fantastic talent as a colorist, a special love for oversized canvases, and more.
The exhibition is on display only a few miles away from Vetheuil until  31 October, 2009 at the Musée des Impressionnismes Giverny.
Joan Mitchell, Great Valley number IX, oil on canvas