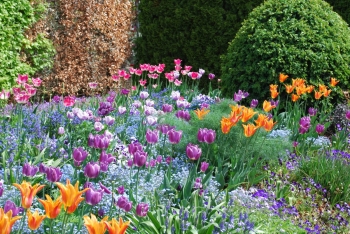 American visitors to Giverny often ask to which agricultural zone Giverny belongs.  A puzzling question indeed, as these zones aren't commonly used in France!
 Asking about the coldest temperature in Winter doesn't help a lot, because the Frenchs count in Celsius, not in Farenheit.
I finally found the answer: Giverny is in zone 8.
During the coldest night of the last Winter, temperatures reached -13°C, that is to say 8°F. This is OK for many plants, trees and bushes, except the most fragile.
 Some flowers even need frost to understand that it is Winter, and then Spring. If tulips, for instance, don't get all the cold they need, they will sulk and refuse to bloom the next Spring!