by Ariane ~ October 9, 2008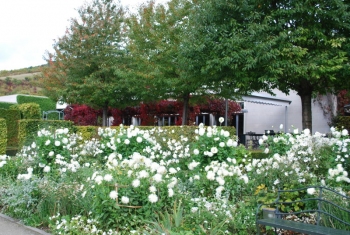 I am absolutely excited by the news I've just read in the local newspaper of Vernon: next year, the Fine Arts museum of Giverny (temporarily named Impressionist Museum, but its name may change) will start its new life with an incredible exhibition. The organisers plan to obtain 30 Monets! The theme will be, obviously enough, Monet's gardens.
It seems too fantastic to be true, but I'm not dreaming. Imagine! The visitor will be able to see the paintings on the very place where they were created, to go from the canvases to the garden, from the garden to the canvases. A unique, unforgetable experience. It will be absolutely gorgeous. Visitors will leave Giverny their eyes full of beauty and harmony.
The new museum will open with this exceptional exhibition on May 1st, 2009, one month later than Monet's home and gardens at Giverny, opening on April 1st, 2009. The paintings by the master of Impressionism will stay at Giverny through August 15th.
An exhibition of Joan Mitchell's paintings is scheduled from August 23rd through October 31st, 2009. The American artist Joan Mitchell has a direct connection with Monet: she bought and lived in the house neighbouring his former house at Vétheuil, 20 km from Giverny.
In the future the museum of Giverny will constitute its own permanent collection. It could be open year round. It's hard to imagine better news, isn't it?