by Ariane ~ March 28, 2010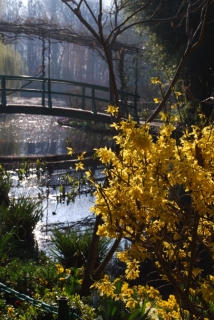 Forthysias are in bloom again at Giverny.
Their bright yellow enlightens not only Monet's, but every gardens.
Today it is raining a little bit. The sky is overcast and grey, the Seine silvery, the landscape bathed in a mute grey light.
 This is the weather forthysias like most for their very special magic. When all the colors have disappeared, their bunches burn like fires. Their straight twigs resemble rays of sunshine.
When the real sun comes back again, the magic vanishes. Forthysia bunches become yellow flowers again.