by Ariane ~ December 21, 2011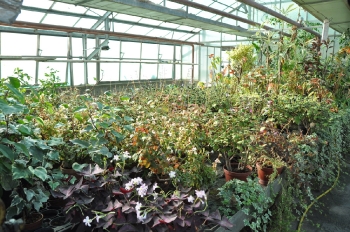 Are you curious to have a look inside of Monet's greenhouse, that is not open to the public?
I was! With the allowance of the gardener, I took this picture last July.
Even in Summer many plants need to be kept inside. Some of them will decorate the house, others will be used to adornate the meeting rooms when VIPs come to Giverny, others are waiting for being planted, others are mother plants…
Monet was such a keen gardener that he built a greenhouse on the location of this one, on the left side of the flower garden. It was heated, and the painter cultivated orchids and exotic ferns. He also grew his seedlings in the greenhouse.