by Ariane ~ December 17, 2012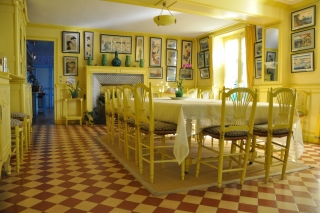 Here is another view of
Claude Monet's yellow dining room
 at Giverny. Bright, charming, cozy, it is often considered inspiring by people seeking new ideas for their home.
The red and creamy tiles on the floor are typical for the local 19th Century style and can be found in many houses around. The furniture, including buffets and chairs, was also widely spread. Monet's novelty was to paint it in these two tones of yellow.
Nevertheless, a strange spell lies on this dining room. Many visitors remember it as the "yellow kitchen". However, the neighboring kitchen is absolutely blue, as you can spot through the door.