by Ariane ~ October 2, 2014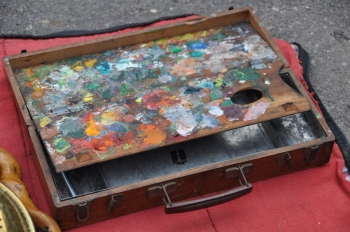 Every last Sunday of September, the main street of Giverny "Rue Claude Monet" turns into a sidewalk sale. Hundreds of booths display a large range of used things, from antiques to books and toys. These so called Fairs to Everything (foires à tout) are extremely popular in the area of Giverny and attract thousands of visitors.
I photographed this paint box at the Giverny fair last week-end. It is a foldable one. I found it especially artful, if I dare say, because of the two little bumpers that prevent the two sides of the palet from sticking to one another when folded.
Below, the zinc box is partitioned to contain tubes of color and brushes, and a bottle of solvent.
Foldable means that the box was easy to carry outdoors for open air painting, the big revolution of the 19th Century. Thanks to the newly invented squeezable tubes of colors, artists were able to leave their studios and paint the landscapes they saw, generously lit by the sun.
I wonder whom this very paint box belonged to, and what paintings were made with it. The mystery contained in ancient objects is part of the fun we have going antiques hunting…