by Ariane ~ April 23, 2008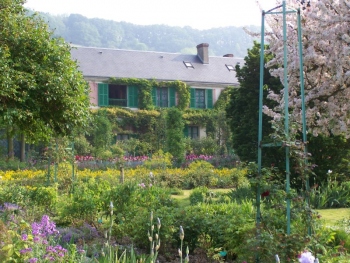 Monet's home is painted into pink, a pale pink that matches the Japanese cherry trees and the crab apple trees blooming in April, at the beginning of the season.
 In the spring freshness, pink seems to be everywhere, from the tulips aligned in front of the house in island beds to the many pansies scattered in the mixed borders.
All these pinks are enhanced by the tender green of the new born leaves and grass.