by Ariane ~ July 3, 2011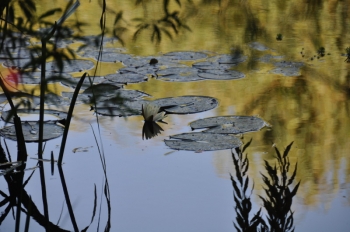 Water lilies are sensitive to cold. When the night is overcast and mild, they are all open in the morning. But if the night is clear, they close and need several hours of sunshine to open again.
They like a warm water not only to open, but also to bloom. On Monet's pond, water lilies are gorgeous during heat waves, they become scarce during rainy and cool periods.
This is true for a big pond like Giverny. For gardeners who would like to grow water lilies in a wash basin, it is wise to look for a partly shaded spot. In direct sunshine, the water of a small container becomes very warm. If some like it hot, it is not the case of water lilies.