by Ariane ~ June 7, 2017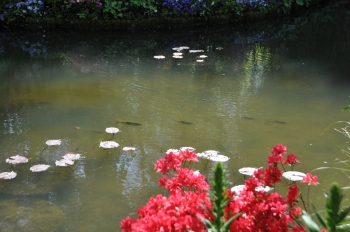 Is there fish in Monet's pond at Giverny? This is a question visitors ask frequently.
The water lily pond houses a few big carps, maybe eight according to the gardeners.
There are also smaller fish like ruds, that have orange fins, and at least a perch and a pike.
All of them are wild fish that can be found in streams nearby.
They contribute to the ecosystem of the pond and are invaluable to keep this little microcosm balanced.
The Giverny fish are greyish, silvery, but not colorful. No koi carps here, although they would add to the oriental look of the garden.
As mute as they may be, they are visible enough for the heron that visits the pond at dawn. The water is too deep for him to stand in it, but he stays on the side and keeps a close eye on the fish, hoping one will come near enough to be turned into his breakfast.