by Ariane ~ April 11, 2015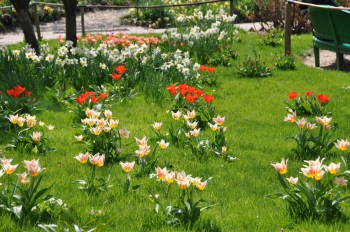 In April, as soon as the sun shines, Monet's garden radiates. The colors are brighter than ever. Greens are vibrant. Red tulips flame in their complementary color. All the upside down bells of the bulb flowers resemble shiny laterns that have just been switched on.
What is the reason therefore? A freshly washed air, cool enough not to contain any haze? Or is it due to the height of the sun? I don't know. But it is properly amazing and special to early spring. The glow of April makes you want to come out in the garden, to paint and to photograph.