by Ariane ~ May 14, 2008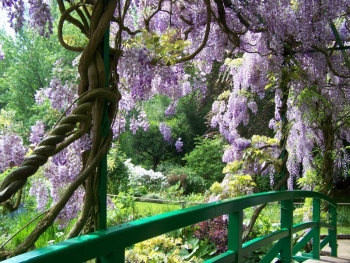 The wisteria is at its peak over the Japanese Bridge in Claude Monet's garden.
Its flowers look like long grapes. They are a soft tone of lavender and produce a delicious scent which recalls to the scent of jasmine.
It is an incredible feeling to stand on the bridge and be surrounded by the blooming wisteria all around you.
The beautiful effect doesn't last very long, but Monet had thought of a special jocker. A second later wisteria will follow the lavender one when it is over. The second one is a white wisteria.