by Ariane ~ March 6, 2011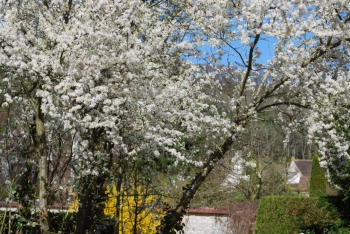 What is your idea of Giverny? A lady told me that before coming, she imagined Monet's place isolated in the countryside, standing on its own like a chateau. She was surprised to discover it was part of a village.
But this is no wonder, as Monet chose an existing house for his home. In the Seine valley, farms are not scattered around in the fields, but form villages of a few hundreds inhabitants. The rural dwelling is accompanied by a garden, where the peasant grows his vegetable and fruit.
This is exactly what fascinated Monet. When he discovered Giverny in April 1883, the fruit trees where in blossom, offering lovely views that attracted his painter's eye.
Giverny hasn't changed a lot through the decades. The village's administration pays attention that it keeps its countryside mood, as quiet as possible. Except for the two museums and a few restaurants, you won't find many tourism oriented places.
This is part of the charm of Giverny, sort of a feeling that things are still the same. A stroll through the main street of the village will lead you to the newly renovated nice little church.