by Ariane ~ January 27, 2011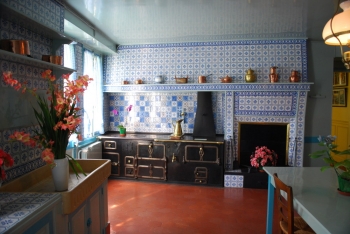 Very striking in Claude Monet's kitchen at Giverny are the blue tiles that cover all the walls.
If you are inspired by Monet's kitchen, here is a tip to bring Giverny into your home: traditionally manufactured tiles copying Monet's tiles are now available. They are made in France and they look great. If you would like more information about the tiles, just leave a comment on this post, I will not publish it. You will get a direct answer in your mail box.