by Ariane ~ September 27, 2011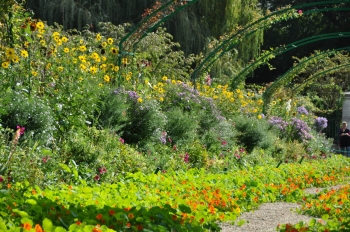 The beauty of September in Monet's garden at Giverny lies in the bright colors displayed by giant flowers.
Pink or red huge dahlias, tall yellow helianthus, enormous purple asters, supersized yellow or brown sunflowers have now reached their final height.
In the main alley, nasturtiums flow like a river on the sloping ground, pretending to fill the pond of the water garden.
Their petals shimmer in the sunshine, just like paint on an impressionist canvas.