by Ariane ~ June 7, 2012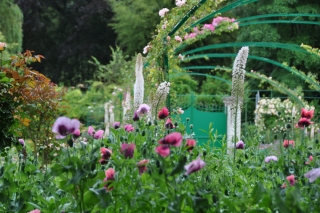 After the yellow and orange Iceland poppies, and the enormous red perennial Chinese poppies, it is now time for the lovely pink annual poppies.
Each year, when they pull the dried ones out of the ground, the gardeners scatter the seeds in the flower beds. They grow everywhere, and they turn the garden into a pink fairy for a few days.
The eremurus, also known as fox tails, create an interesting contrast with their vertical shape.
They are topped by the climbing roses, at their best in June.