by Ariane ~ October 23, 2010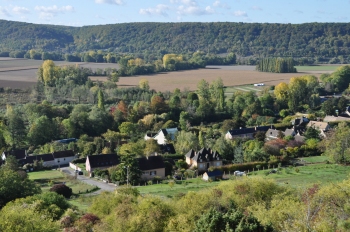 Giverny lies west of Paris, 80 km away from the city, in the Seine valley.
The river flows at the bottom of the hill on the background of the picture. It has carved deeply the tender chalk of the plateau, creating steep hills.
 The bottom of the valley is floodable, this is why the village was built at the foot of the hill. It stretches over three kilometers along a single street, now named after Claude Monet.
Only a small portion of Giverny can be seen on the photo. (click to enlarge)
 Right in the middle, you can see the big studio of Monet, recognizable thanks to the window panes on the roof. On its right, the long pink house with a slated roof is Monet's home. And on the right of the house, the next building was Monet's second studio (see the windows on the roof there too).
Behind these three buildings one can notice the garden. The trees on the pond side blend into the nature around, hardly noticeable by their more vibrant colors. And behind Monet's gardens, fields show that there are good alluvial grounds here.
Nesting in its natural surroundings, Giverny is a rural village in the countryside, living on a slower pace than the big city of Paris. Being a nice day out is one of the assets of an excursion to the home of Claude Monet.