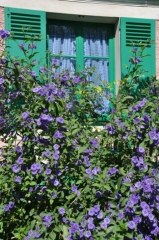 According to Claude Monet's step son Jean-Pierre Hoschedé, the painter loved blue flowers.
This beautiful solanum, a plant belonging to the family of tomatoes and potatoes, is covered with simple little blue flowers.
It matches the colors of the kitchen window with its blue squared curtains, a very typical french pattern called vichy fabric.
In late Summer, plants are at the top of their heigth. With a bit of imagination, the flowers of the Giverny garden look like big waves splashing against the walls of the house.